Colonel Kurtz at Pagsanjan Falls
Francis Ford Coppola's legendary film, Apocalypse Now, about the search for an officer gone AWOL in the midst of the Vietnam war, had its iconic final scene set in the Philippines. Pagsanjan Falls, in the province of Laguna, is some 80 kilometres south of the capital Manila. Surprisingly, the Falls setting as Apocalypse Now's final scene is not particularly well known, and the majority of tourists visit Pagsanjan for other reasons. Although film buffs will no doubt relish being able to say that they have visited the site of Kurtz's downfall.
The Falls are home to a sequence of fourteen rapids that flow down the Bombongan River. Local Filipino boatmen, known as bangkeros, are skilled at navigating the rapids in canoes, and charge tourists to be taken down the rapids. The experience is known as shooting the rapids. A trip down the rapids will cost around US$12, which is a snip considering the thrill of the ride.
Nearby is Lake Caliraya, situated at a huge 3050 metres above sea level. The views from the top are spectacular, taking in the blue tropical waters of Laguna de Bay and the sacred Mount Banahaw. Watersports are a popular activity on the lake, with windsurfing, kayaking and jet-skiing all available. Accommodation in the area is very reasonably priced, with hostels as little as US$3.
Travel Quotes:

When traveling with someone, take large does of patience and tolerance with your morning coffee. Helen Hayes

Travel becomes a strategy for accumulating photographs. Susan Sontag
---
---
---
---
Travel Agency Business Franchise
---
Xetri Evolution Travel and Tours
---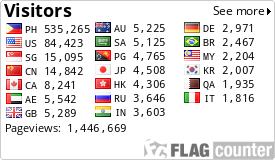 Philippine Beaches and Island Beach Resorts

Philippines Information
The Philippines is an archipelagic nation made up of 7,107 islands spanning 1,840 kilometers north to south. It is part of the East Indies, a vast island group lying south and east of mainland Asia, with Taiwan at its northernmost coast and Borneo on the south. More...

Bohol Island Philippines
The island province of Bohol, or "Bo-ol", its original name, lies in the heart of the Visayas. Northwest of Bohol is the province of Cebu; Leyte is on the northeast and on the south is the Mindanao Sea. More...
Bohol Philippines

Boracay Island Philippines
Voted the world's best beach by the Sun Herald, Australia and Harper's, Boracay is the perfect island getaway, with its warm blue waters, powder-fine white sand, and a palm fringed 4-kilometer beach. More...
Boracay Philippines

Cebu Island Philippines
Cebu is characterized by narrow coastlines, limestone plateaus, coastal plains but with predominant rolling hills and rugged mountain ranges traversing the northern and southern lengths of the island. More...
Cebu Philippines

Davao Island Philippines
The word "Davao" from daba-daba", meaning fire. The early inhabitants occupying the eastern shores of Davao were the Manobos, Tagcaolos, Guianggas, Bilaans and Aetas. More...

Palawan Island Philippines
Approximately 586 kilometers southwest of Manila, between Mindoro Island on the North, Borneo on the South, China Sea on the west, and Sulo Sea on the east. More...
Palawan Philippines

Puerto Galera Island Philippines
Dubbed as the Pearl of Mindoro, is a beach resort town located on the north shore of Mindoro Island, 130 kilometers south of Manila, and 14 nautical miles from Batangas City. More...
Puerto Galera Philippines